Eperisone HCL Tablets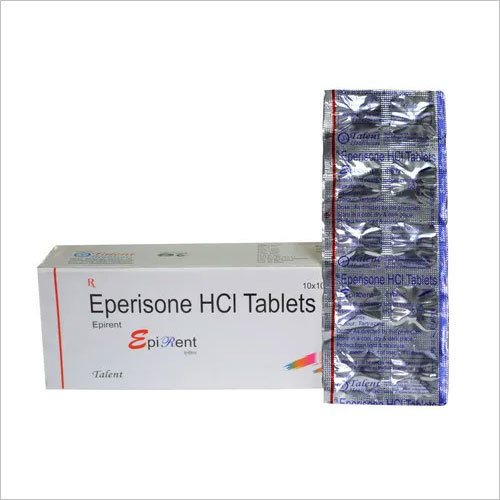 Eperisone HCL Tablets
Price And Quantity
Product Specifications
General Medicines

Tablets
Aged Person, Adults, Women, Teenagers, Children

Dry place
Product Description
Overview:
Chemically Eperisone (Hcl) Is Identified As 4' -Ethyl-2-Methyl-3-Piperidinopropiophenone Hydrochloride. It Exihibits Both Skeletal Muscle Relaxant And Vasodilator Properties Because Of Its Actions Within The Central Nervous Stem And On Vascular Smooth Muscles. Eperisone (Hcl) Is Used In The Symptomatic Treatment Of Muscle Spasm.
Category:
17 Gastrointestinal Drugs
17.5 Antipasmodics
Primary Characteristics:
It Is Of Synthetic Origin And Belongs To Piperidinopropiophenone. It Belongs To Anticholinergic Agent Pharmacological Group.The Molecular Weight Of Eperisone (Hcl) Is 295.80.
Its Pka Is 9.6151.
Indications:
Eperisone (Hcl) Is Primarily Indicated In Conditions Like Muscular Spasm, Spasticity, And Can Also Be Given In Adjunctive Therapy As An Alternative Drug Of Choice Inmusculoskeletal Disorders.
Contraindications:
Eperisone (Hcl) Is Contraindicated In Conditions Like Hypersensitivity To The Drug,Breast Feeding.
Drug Interactions:
No Data Regarding The Interactions Of Eperisone (Hcl) Was Found.
Interference In Pathology:
No Data Regarding The Pathological Interferences Produced By Eperisone (Hcl) Is Available.
Side Effects:
The Severe Or Irreversible Adverse Effects Of Eperisone (Hcl), Which Give Rise To Further Complications Include Hepatic And Renal Rysfunction, Urinary Disoeders.
The Symptomatic Adverse Reactions Produced By Eperisone (Hcl) Are More Or Less Tolerable And If They Become Severe, They Can Be Treated Symptomatically, These Include Sleepiness, Weakness, Dizziness, Headache, Drowsiness, Diarrhea, Constipation, Insomnia, Abdominal Pain, Skin Rashes, Rashes, Itching, Nausea And Vomiting, Numbness, Anemia, Gi Disturbance, Urinary Retention, Pruritis(Less Commonly), Skin Rashes, Dizziness.
Trade Information
Africa, Middle East, Western Europe, Eastern Europe, South America, North America, Central America, Australia, Asia